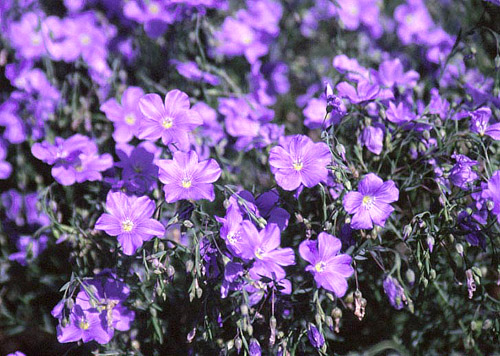 (picture from www.flaxcouncil.ca)
By Mary-Ann Shearer
History of Flax and Flaxseed Oil
Flax was originally grown both for its fibre, which was woven into linen, and for its seeds and oil, which provide a wide array of essential nutrients. References to the healing properties of flax are found in Greek and Roman writings dating to around 650 BC. Hippocrates, considered to be the father of modern medicine, mentioned the use of flax to relieve inflamed mucous membranes, and for relieving abdominal pains and diarrhoea.
Flax has been used since antiquity to maintain healthy animals such as calves, cows, horses, and dogs. Its uses include correcting digestive disturbances, lactating and pregnant cows, preventing diseases such as foot-and-mouth, respiratory problems, improving coats, preventing distemper, and improving the general health and disposition of animals.
Flax seed and the Oil is Rich in Nutrients
An average 100g of flax seeds will provide you with:
35g oil
26g of protein (including all 8 essential amino acids)
14g of fibre, 12g of mucilage
4g vitamins & minerals
9g water.
If you swallow flax seeds whole, they will just pass right through your body. In fact, if you planted them then, they would grow!
Flax seeds are protected by a tough seed coat and need to be ground in a nut or seed grinder (coffee grinder also does the trick) to make the nutrients available.
You can comfortably take 1-6 Tbsp a day of ground flax seeds, but make sure you drink a lot of water, because its mucilage absorbs five times the seeds' weight in water. I personally prefer to take flax seed oil and have seen hundreds of people benefit from taking the oil on a daily basis.
Flaxseed Oil is rich in Essential Fatty Acids
Flaxseed oil is one of the best-known sources of the essential fatty acids, linolenic (the full name being Alpha-Linolenic Acid or LNA) and linoleic acid. Together with a healthy natural diet, it will provide you with all the nutrients for abundant health.
These essential fatty acids are essential (as the name implies) for a variety of functions, but in particular endocrine or hormonal function. Any and all problems therefore related to Endocrine function are likely to benefit from taking flaxseed oil.
The endocrine system is perhaps the most important system in the body, in that it is involved in heart, kidney, liver, lung, and skin function.
It is also involved in controlling weight, metabolism, water retention, premenstrual tension, menopausal symptoms, blood pressure and blood sugar, allergies, and inflammation such as arthritis. The immune system is also dependent on a correctly functioning endocrine system and I have found that auto-immune diseases such as lupus and multiple sclerosis improve with the right fats in the diet. (Found in Flaxseed Oil!)
Flaxseed Oil is a Powerful Therapeutic
Flaxseed oil is a powerful, traditional and therapeutic tool used against the following conditions:
Fatty degeneration in heart disease
Cancer
Diabetes
Hypoglycaemia
Blood pressure problems
Kidney function
Immune and platelet function
Maintaining healthy arteries (helps transport cholesterol out of the arteries to the areas where the body needs the cholesterol-such as the brain, skin and hormonal system)
All forms of arthritis, fibromyalgia and gout
Weight loss and gain
Eczema
Psoriasis
Hyperactivity, Schizophrenia and learning problems
Lowers cholesterol levels
Dry skin, dandruff and sun sensitive skin
Depression
Visual function
Colour perception
Improves the metabolism of calcium (helping to prevent osteoporosis)
Helps the body fight infections such as staphylococcus and malaria
Mental acuity
Multiple sclerosis
Shortens the time for fatigued muscles to recover after exertion
Shortens healing time for bruises, sprains, and injuries
Improves hair and nails
Food for All
To quote Udo Erasmus (PhD) and author of Fats that Heal Fats that Kill, "Fresh Flax oil, properly made, ought to become part of the intake of virtually the entire population."
Flaxseed oil contains good sources of carotene and vitamin E. Both powerful anti-oxidants that slow down the ageing process. Most people notice within a month a huge improvement in skin texture.
Flax seeds and the oil contain lignans, which are cyclic molecules with anti-viral, anti-fungal, anti-bacterial, and anti-cancer properties.
Which Flaxseed Oil?
Flaxseed oil must be cold-pressed and stored in a dark cool place. For excellent health, take 1-6 tsps Flaxseed oil a day (AIMega is thebest source for EFA's and flaxseed oil), together with a good source of B complex and Vitamin C. BarleyLife is the best source for these nutrients,. Following The Natural Way diet will provide support for these nutrient. AIMega, BarleyLife and The Natural Way lifestyle will go a very long way to sorting out most health problems.
Other Beneficial Oils
Other oils that are beneficial to your health are:
Cold-Pressed Olive Oil
Cold-Pressed Sunflower, and
Cold-Pressed Sesame oils
---
You get 100 daily emails full of natural health information, health tips, and healthy recipes to help change your life. We help you take small steps and begin integrating The 5 Basic Steps of Natural Health,  based on The Natural Way, 30+ years of research, integration, and education by Mary-Ann Shearer.
If you are ready to take steps and improve your health like thousands of others, sign up for our newsletter, purchase our support products and get started! Healthy Eating + Healthy Choices = Healthy Living